What To Do With the Toddler While the Older Kids Do School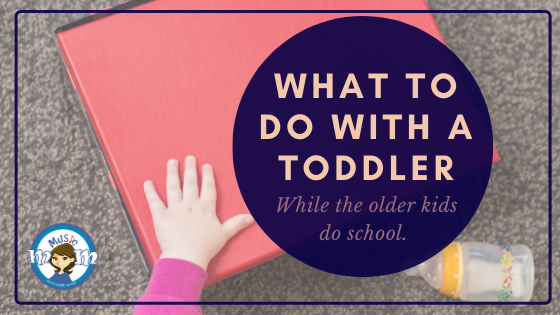 When I first began teaching my children at home, my children were ages 9, 6, and 2 years old. And that two-year-old was a boy. My hands were full to say the least. That was eleven years ago. So I have a few ideas to offer parents with younger children while the older children do school work.
There are lots of things that may seem obvious to you, such as coloring, puzzles, toys, and games. You should definitely use all that you have at your disposal. However, I would like to present to you the "Special Box."
When to use the Special Box.
The "Special Box" is a box in which I keep activities that I very strictly only used when my older two children were doing school. If my 2-year-old was off playing and occupied, then obviously I left him alone. It never failed that when I sat down to teach or work with the other two, he wanted to be a part. That is when I would bring the Special Box out.
To the keep the Special Box interesting, I changed at least a couple of the activities every week to two weeks.
What's In the Special Box?
Many of the things that I put in the box I picked up free online or at the Dollar Tree. The activities I made with supplies from home. One of the most memorable activities was one which was made with a chip can, a hole punch, stickers, and Pipe Cleaners. I used the hole punch to punch holes in the lid. I put stickers around the holes. I had my child match the color of the Pipe Cleaner to the same color hole and feed it into the can.
A few more activity ideas for the box.

1. Scissors to practice cutting shapes.
2. Letters printed on paper for him to roll out PlayDoh and lay on top of the letters.
3. The child's name printed on paper to trace with a crayon.
4. Sorting activities, such as sorting buttons or craft pompoms by color into cups or small bowls or an ice cube tray.
5. Alphabet memory.

These are just a few ideas. You can find many more ideas at the following websites.

https://www.totschooling.net/

https://www.teacherspayteachers.com/Product/Tot-School-Toddler-Curriculum-Plans-and-Printables-BUNDLE-3280882

https://hiphomeschoolmoms.com/what-is-tot-school-and-how-can-i-do-it-at-home/

https://1plus1plus1equals1.net/
The good news is that your tot or pre-k learner will love the Special Box so much that they will ask for it. However, I encourage you to hold your ground and not give in unless it is school time. If you give in then it's just a box. Keep it special. You can do this!